Events and News


15 micron PLA now available.  Contact Brad for details.
Pack Expo, Toronto is November 7-9 at the Toronto Congress Centre.  Drop by booth 1721 to connect!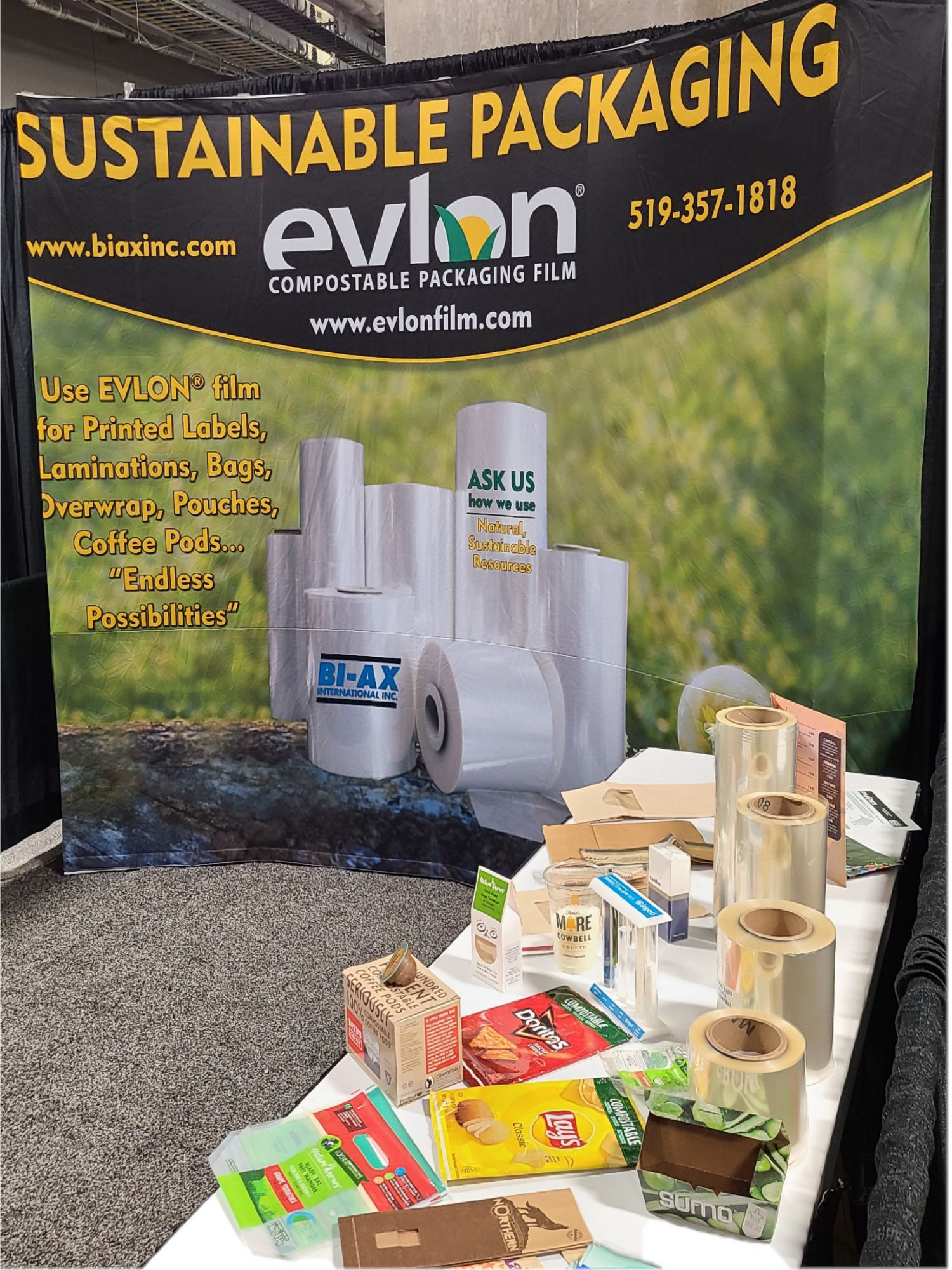 News
BI-AX International Inc. can now offer GMO-free film!  
 Contact Brad Harrow, Sales Manager,  for details.
BI-AX International Inc.
European Representative
Thomas Stehl

If you are interested in lower COF PLA based films, contact us.
September 23, 2021
Frito-Lay

® 

launches industrially compostable bags with off the eaten path

® 

brand; advances in goal to design 1005 of packaging to be recyclable, compostable, biodegradable or reusable across protfolio by 2025
PLANO, Texas
, 
Sept. 23, 2021
 /PRNewswire/ -- Frito-Lay, a division of PepsiCo® and leader in snacking, today introduced an industrially compostable bag for its Off The Eaten Path® brand.
The bags are currently available at Whole Foods Market and select retailers starting this month and are an example of PepsiCo's investments in breakthrough food packaging technology and the overall pep+ transformation. Producing the materials used for these bags creates approximately 60 percent lower GHG emissions than traditional packaging and the technology may be licensed to other companies at no cost to further the use across the consumer-packaged goods industry.  
"Frito-Lay recognizes the important role we play in driving towards a circular economy and reducing packaging waste," said David Allen, vice president of sustainability, Frito-Lay North America. "We are investing in plans to scale circular food packaging that is recyclable, compostable, biodegradable or reusable and sharing that technology to build a more sustainable food system for us all."
Off the Eaten Path® Composting Program
Off The Eaten Path prides itself on being a brand passionate about developing tasty snacks made with real ingredients consumers can feel good about like peas, chickpeas, and black beans that are better for people and for our planet.
As part of our journey on developing snacks better for the planet, Off the Eaten Path is piloting industrially compostable packaging. The packaging, which is primarily made from non-food, plant-based sources, is available on specially marked Off The Eaten Path Chickpea Veggie Crisps or Off The Eaten Path Veggie Crisps.
Read the full article here: https://www.bioplasticsmagazine.com/en/news/meldungen/20210914-LG-Chem-to-produce-100-Bioplastic-with-a-Global-Major-Grain-Processing-Company.php">LG Chem, ADM partner on PLA project - bioplastics MAGAZINE
NatureWorks Sets up New Headquarters, Expands Biopolymers R&D Lab
Geoff Giordano | Jan 24, 2022
The biopolymers business is good for NatureWorks — so good that the company is opening a new headquarters and advanced research facility in Plymouth, MN, in addition to a manufacturing complex in Thailand to produce its Ingeo PLA material.
At its new US headquarters, "expanded laboratory capabilities will support research into the full circular lifecyle of Ingeo biopolymers from next-generation fermentation technology to new applications to increased functionality," according to the company's press release. "The expanded R&D capabilities will also support the construction and operation of NatureWorks' new fully integrated Ingeo PLA manufacturing complex located in Thailand. With an expected opening in 2024, the facility will have an annual capacity of 75,000 tons of Ingeo biopolymer and produce the full portfolio of Ingeo grades."
Food giants respond to worries over packaging
By David Silverberg
Technology of Business reporter
BBC News
May 3, 2021
When Rebecca Prince-Ruiz recalls how her eco-friendly movement Plastic Free July has progressed over the years, she can't help but smile. What began in 2011 as 40 people committing to going plastic-free one month a year has gained momentum to 326 million people pledging to adopt this practice today.
"I've seen that uptick in interest every year," says Ms Prince-Ruiz, who is based in Perth, Australia, and author of Plastic Free: The Inspiring Story of a Global Environmental Movement and Why It Matters.
"These days, people are taking a hard look at what they are doing in their lives and how they can seize an opportunity to be less wasteful," she says.
Since 2000, the plastics industry has manufactured as much plastic as all the preceding years combined, a World Wildlife Fund report in 2019 found. "The production of virgin plastic has increased 200-fold since 1950, and has grown at a rate of 4% a year since 2000," the report says.
This has spurred companies to replace single-use plastic with biodegradable and compostable packaging designed to dramatically reduce the toxic footprint plastics leave behind.
 In March, Mars Wrigley and Danimer Scientific announced a new two-year partnership to develop compostable packaging for Skittles in the US, estimated to be on shelves by early 2022.
It involves a type of polyhydroxyalkanoate (PHA) that will look and feel the same as plastic, but can be thrown into the compost where it will break down, unlike regular plastic that takes anywhere from 20 to 450 years to fully decompose.
...read the rest of the article at the link below
NatureWorks and IMA Announce New Strategic Partnership
NatureWorks and IMA Announce New Strategic Partnership for the Compostable Coffee Pods Market
Partnership will accelerate the availability of a turn-key solution for K-Cup compatible compostable coffee pods in North America with unmatched performance in converting, assembly, filling, brewing, and taste.
BOLOGNA, Italy and MINNETONKA, Minn., (April 27, 2021) – NatureWorks, the world's leading manufacturer of low-carbon Ingeo™️ PLA biopolymers, and IMA Coffee, global market leader in coffee handling, processing, and packaging, today announced that they have entered into a joint strategic partnership aimed at accelerating the market for high performing K-Cup compatible compostable single-serve coffee pods in North America. The multi-year partnership brings together NatureWorks' decades of expertise with compostable materials, formulations, and processing technology with IMA's industry-leading competencies and application-specific know-how encompassing all stages of coffee handling, processing, and packaging.

The pressure on the single serve coffee market to make more meaningful progress towards a more sustainable packaging solution has grown significantly in recent years. Consumers appreciate single-serve capsules for the convenient and quality brewing experience but see the packaging waste associated with a capsule as a detriment. Compostable capsules create the opportunity to not only address consumer concerns and divert the packaging away from landfills, but, perhaps more importantly, to recover the used coffee grounds, enabling their processing at a compost facility where they deliver valuable nutrients to the final compost.
 
Coffee capsules are complex structures where the capsule body, lidding, and filter must be precisely designed to deliver a consistently high-quality brewing experience. Before the capsules even reach consumers, it's critical that these components perform well during assembly and filling as well as on the shelf and during brewing. By bringing together NatureWorks' materials and applications knowledge with IMA's machinery expertise, the partnership aims to deliver a turn-key compostable coffee pod solution to the entire coffee industry making it simple to have a great cup of coffee and dispose of the used pod in the most sustainable way possible.
 
"At NatureWorks, we've seen tremendous interest in compostable single-serve pods," says Flavio Di Marcotullio, Global Industry Manager for NatureWorks. "Brandowners and roasters are responding to both consumer demands for more sustainable packaging and to circular economy directives that specify compostable packaging as a key enabler of recovering food waste for compost. To continue supporting this growth, we saw the opportunity to partner with IMA as they have long helped the single-serve coffee market implement innovative new packaging technologies and have a long-term commitment towards sustainable solutions."
 
With this in mind, to give greater impetus to the topic and direct the production chain towards increasing environmental sustainability, in 2019 IMA launched IMA NoP – No Plastic Program. "NOP (No-Plastic Program) means we promote eco-friendly plastic substitutes for the packages manufactured on IMA machines. Through the research and testing of alternative processes and materials, together with our partners, we foster plastic-free and sustainable, compostable packaging solutions. IMA has also established the Open Lab where Material Technologists study, develop, and test compostable and recyclable materials to be used on our packaging equipment," says Nicola Panzani, IMA Coffee Sales Manager and IMA Coffee Petroncini CEO.
 
IMA's Open Lab is a network of technological laboratories and testing areas dedicated to the research on sustainable materials, technologies, and production optimization processes. "Thanks to the implementation of the most modern digital infrastructures," continues Panzani, "together with think tank spaces, environments dedicated to new generation of ideas and the prototyping of materials, we aim to build a connection between knowledge and skills coming from machines, packaging manufacturers and customers."
 
 
###
About IMA

Founded in 1961, IMA is a world leader in the design and manufacture of automatic machines for the processing and packaging of pharmaceuticals, cosmetics, food, tea and coffee.
 
IMA's mission is to invest in technologies that will improve the quality of life on the planet, reduce food waste, increase access to more effective drugs and allow greater respect for the environment. Its position of leadership is the result of significant investment in R&D, regular and constructive dialogue with the end users in its sectors and the Group's ability to expand internationally, conquering new markets.
 
IMA Coffee Hub is a cluster of specialists each providing a key slice of the experience and expertise needed to serve the coffee industry from A to Z. IMA has created the hub in an aim to leverage expertise at every step of coffee processing or packaging and be the one-stop answer to large and small coffee producers worldwide.
About NatureWorks
NatureWorks is an advanced materials company offering a broad portfolio of renewably sourced polymers and chemicals. With performance and economics that compete with oil-based materials, naturally advanced Ingeo™ polymers are valued for their unique functional properties and used in products from coffee capsules and appliances to tea bags and 3D printing filament. NatureWorks is jointly owned by Thailand's largest ASEAN leading integrated petrochemical and refining company, PTT Global Chemical, and Cargill, which provides food, agriculture, financial and industrial products and services to the world. Learn more at natureworksllc.com and follow NatureWorks on Twitter and Linkedin.
 
https://mailchi.mp/natureworksllc/natureworks-ima-strategic-partnership?e=a6e50392a3
New US Plastics Pact Aims for 100% Reusable, Recyclable, or Compostable Plastic by 2025
The new US Plastics Pact, a collaborative effort organized by the Ellen MacArthur Foundation, The Recycling Partnership, and the World Wildlife Fund is partnering with 850+ organizations to work collectively toward scalable solutions tailored to the needs and challenges within the US landscape.
https://www.ellenmacarthurfoundation.org/news/the-u-s-launches-a-national-plastics-pact-supported-by-all-sectors
---
---
---
PepsiCo goal to have packaging 100% recyclable, compostable, or biodegradable by 2025.
Video by fellow New Plastics Economy participants Novamont, PepsiCo, and Unilever does a really great job of explaining how commercial composting works, the high standards/testing that goes into certifying products as compostable, and how littering is not composting. Take a look!
From PepsiCo: PepsiCo is working to make our packaging 100% recyclable, compostable, or biodegradable by 2025. So, what is compostable packaging? How is it composted? And why is it good for the environment? This short video gives an overview of the environmental benefits of compostable packaging, the labeling and certification systems, and proper disposal practices. 
This video was created in collaboration by PepsiCo, Milan Urban Food Policy Pact, Novamont, Seattle Public Utilities, Amsa, NFL, and Unilever.
Ingeo Newsletter Volume 14, Issue 5 September 2019
https://www.youtube.com/watch?v=55YnyK9QL-s
---
Study Confirms the Value and Compatibility of Compostable Coffee Pods with Commercial Infrastructure
York University in Toronto notes how compostable coffee pods are being composted and can be composted within the current commercial composting infrastructure in North America.
https://wastewiki.info.yorku.ca/the-truth-about-compostable-coffee-pods/
... 100%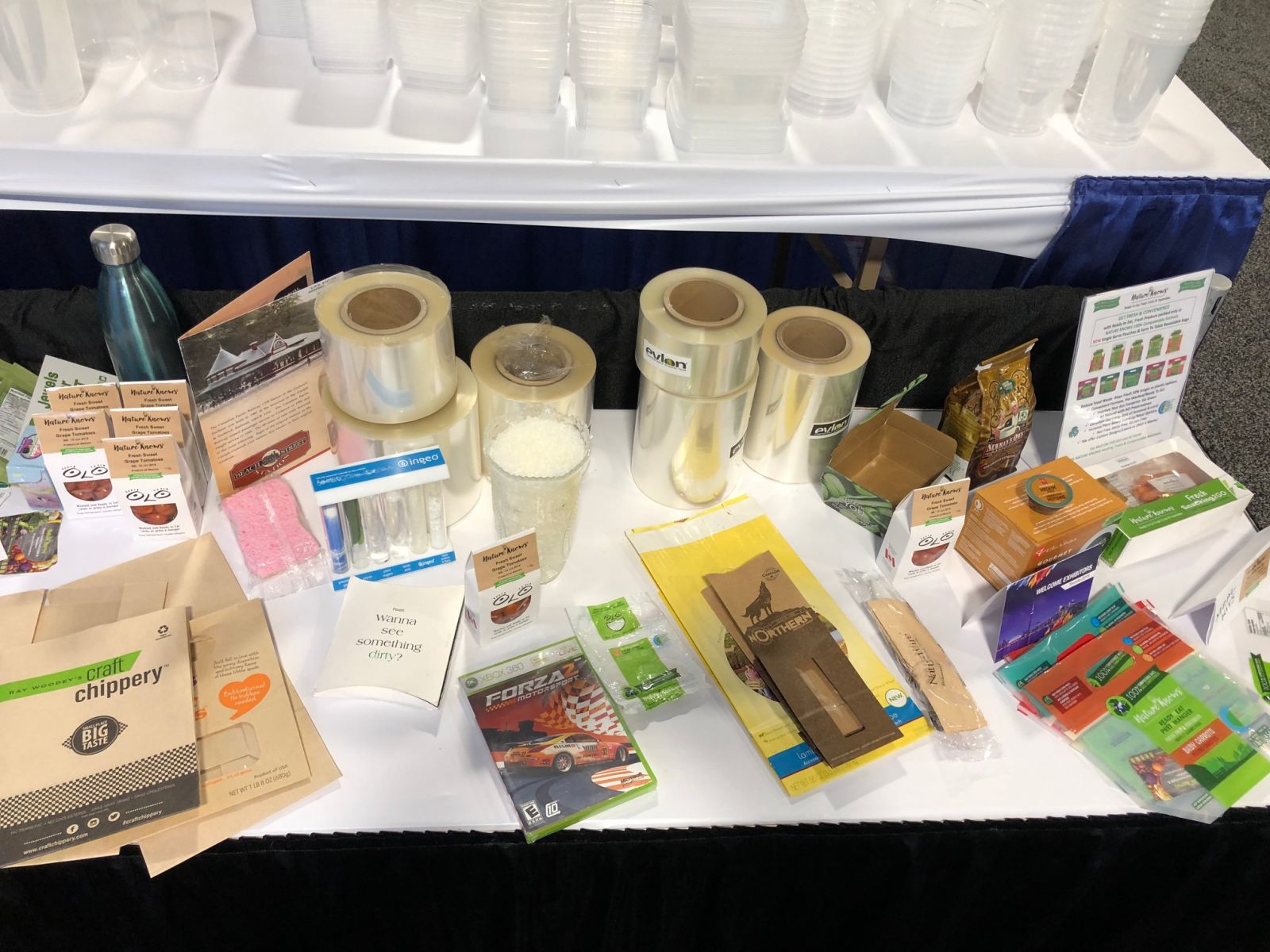 Give us a call to let us know how we can help you with your packaging needs!
---
---
Press Release­ December 18th, 2018

New Product Business Announcement: Nature Knows Inc.
Fresh Healthy Snacks, Good for you and Good for our Earth with NEW 100% Compostable Bags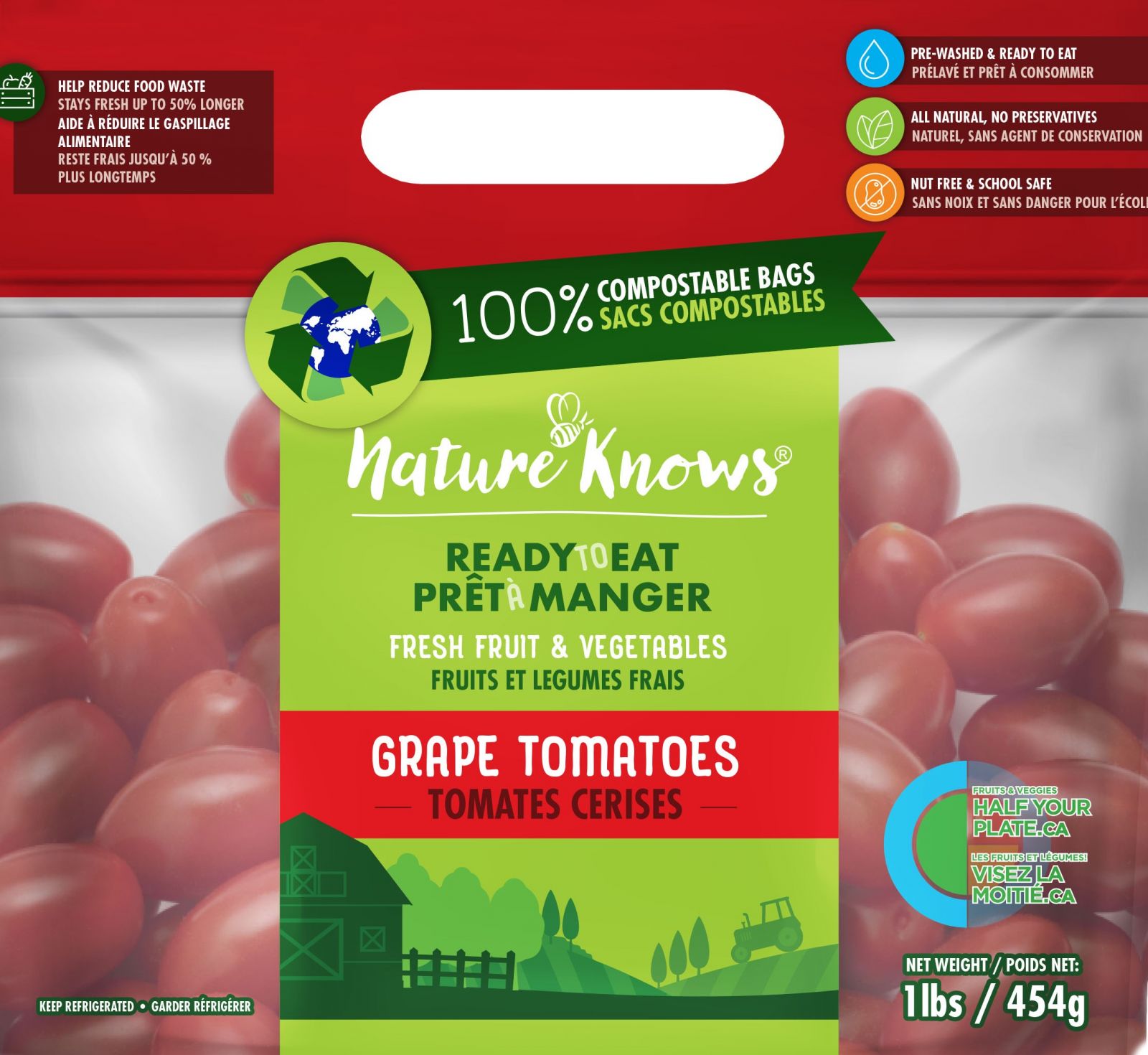 Nature Knows  is excited to announce their new line up for Retail and Foodservice 100% Compostable packaging. With DUX Grand Prix­People's Choice Awards unveiling the candidates for new innovation,  Nature Knows has proudly been nominated.  
Click to read the full press release
Congratulations Nature Works!  BI-AX Is proud to supply Nature Knows with Evlon compostable film for their packaging needs.